This site spotlight will focus on our site located in Warrington. We are very pleased with the progress this site has made over the last year, with work being completed quickly and to the highest quality! Our team have performed exceptionally well on this site, which we are very proud of.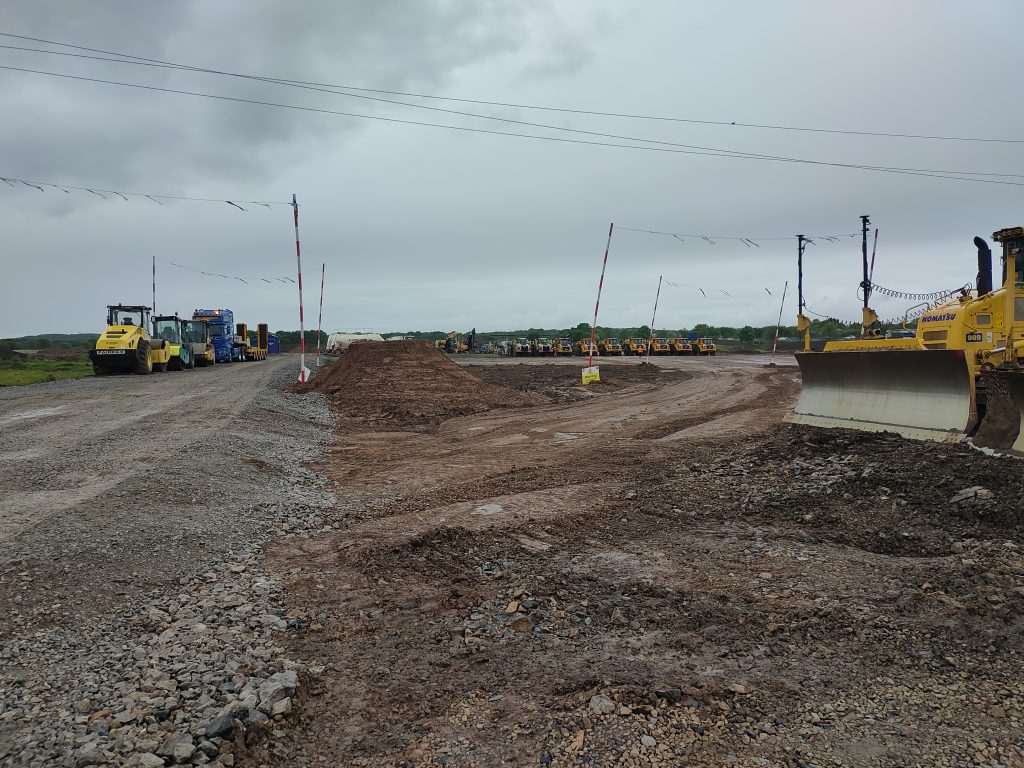 We caught up with site manager Malc to discuss the site:
What is the work that is being completed?
TKL are undertaking works on a site in the North-West to construct a new distribution centre for a major retailer. Our works comprises earthworks cut and fill operations, cement stabilisation and MOT type 1 stone placement to create piling mats and formation surfaces to enable the construction of a 900,000ft2 warehouse, associated service yards and loading areas. In addition, we are also excavating attenuation ponds and swales and associated landscape areas.
What are your thoughts on the progress of the site?
Progress on-site has been generally very good, despite some periods of unsuitable weather conditions. Currently we are 5 weeks ahead of programme.
How are you finding working with the team you are with?
The team are enthusiastic and carry out their duties as briefed each day. Should an issue or concern arise, it is reported to site management in order for a solution to be found and carry out the works in a safe and timely manner.
How long have you worked for TKL and which other sites have you worked on for the company?
I have been with TKL for 18 months in which time I have worked on projects which include Coalville Phases 2, Derby Project Ivory, Ripley Coppice Farm and OMEGA8 Warrington.
What are you enjoying about working on this site?
It is a personal achievement and a privilege to be asked to manage a job such as this as it's with a long-standing valued client and a flag-ship job for them.
After speaking with Malc, we paid a visit to the site to see the latest progress that is being made. The work that has been done is very pleasing and is something that we as a company are very proud of. Contracts manager Dean was quoted as saying "great progress and well ahead of programme all the long hours and hard work paying off" upon paying the site a visit.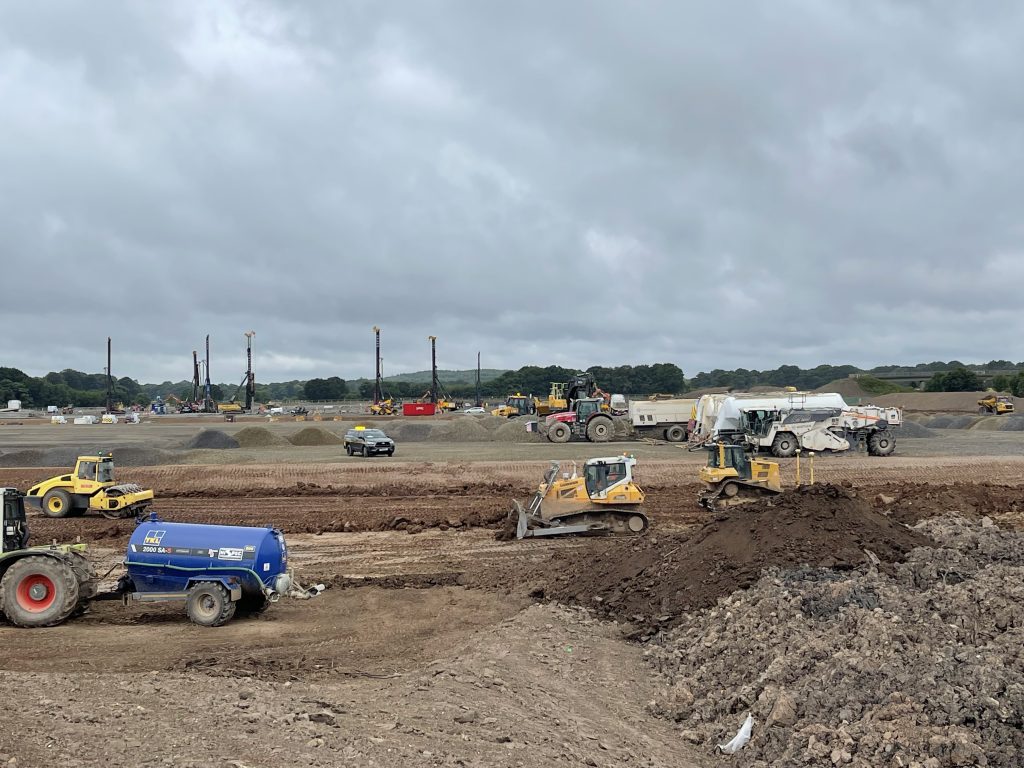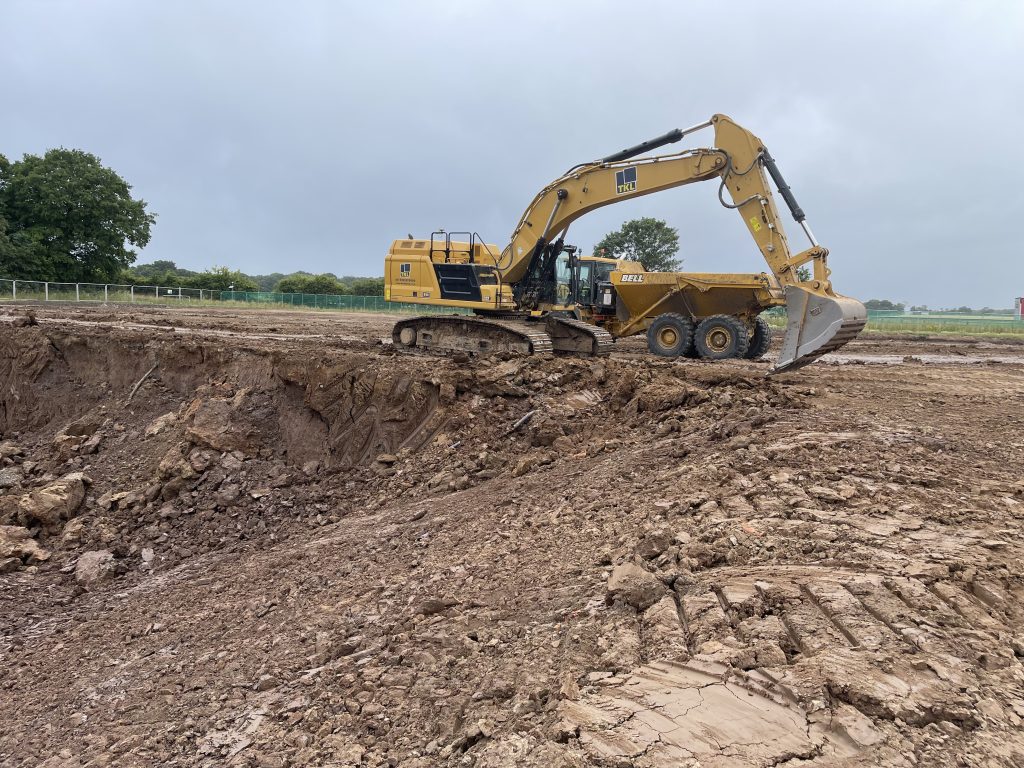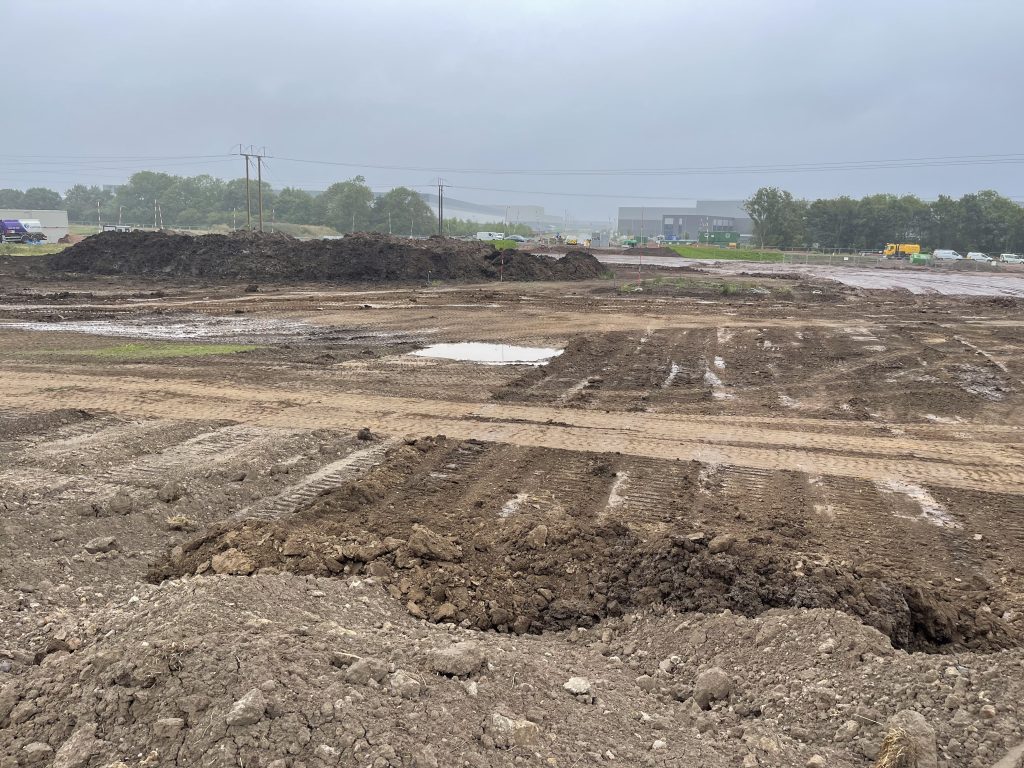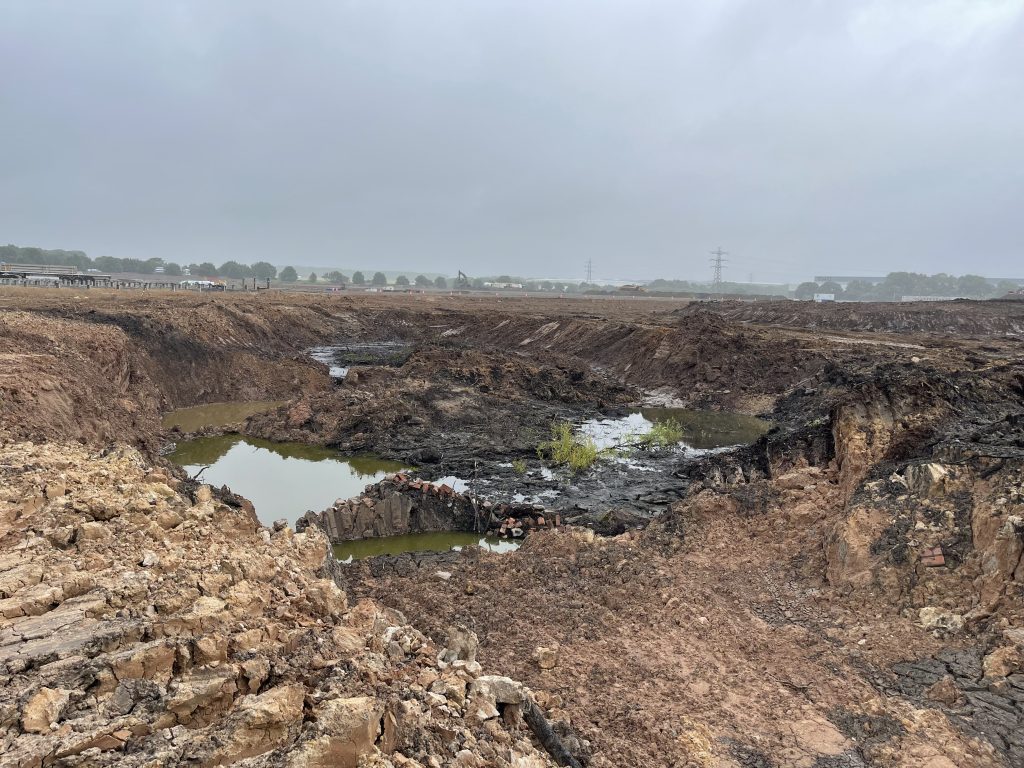 Overcoming the adverse weather conditions has been a massive challenge so far on this site, as you can see. However, the team's ability to achieve this has been admirable.
The Warrington site has seen many stages throughout its process. While the site has been active, Dean has been providing us with updates. Let us guide you through the progress of this site from the early stages, to now!
May 2022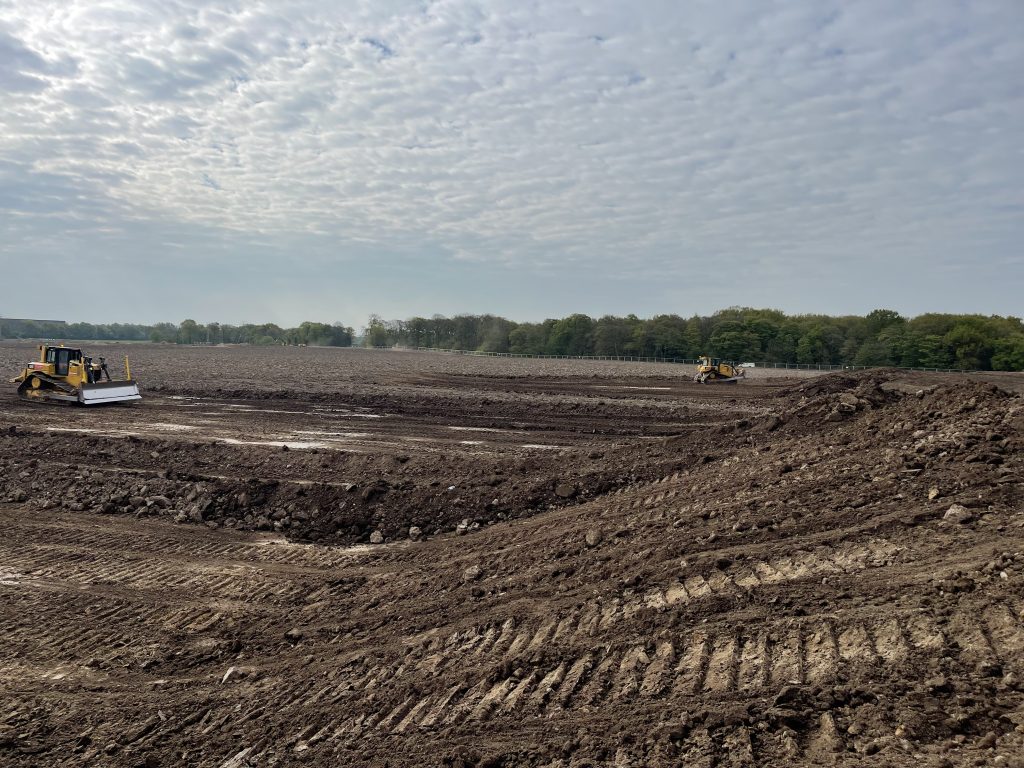 "On site at Warrington with Malcolm this morning as a new project, broken ground 140,000m3 cut and fill stabilised platforms and import aggregates begins for a long term valued client".
A second visit in May saw much more progress made with the site. The site had come on leaps and bounds and was really starting to take shape. We visited the site again and found that the "Warrington works are making good progress with topsoil strip nearing completion and placement and engineering of fill materials to end product specification has started".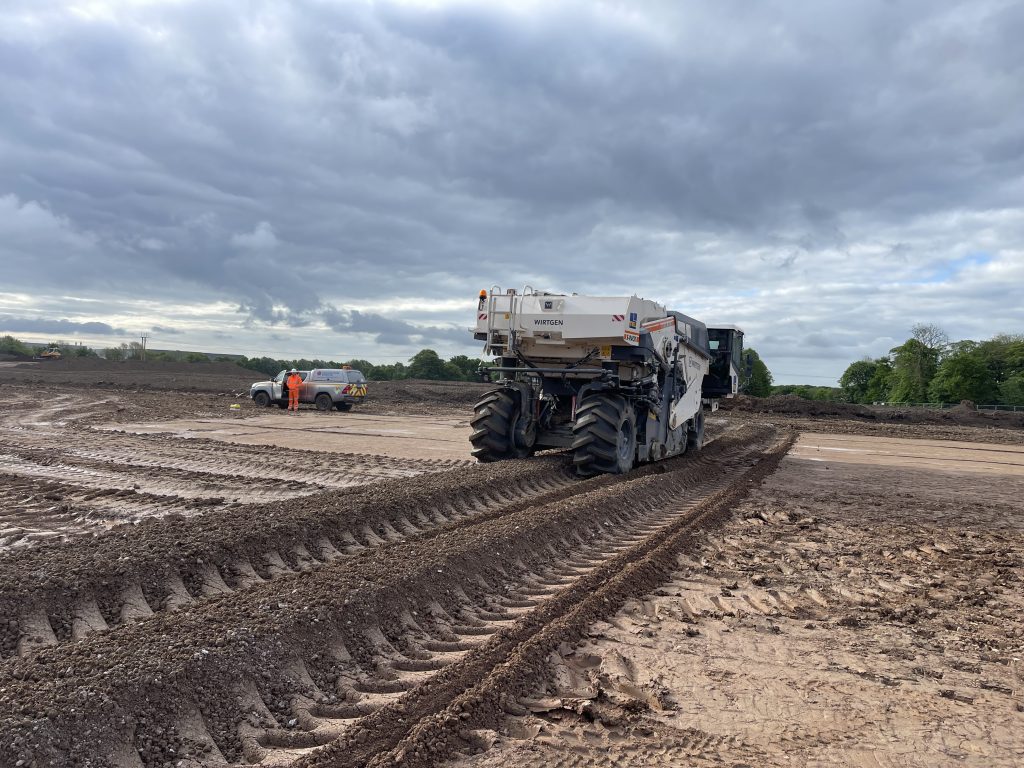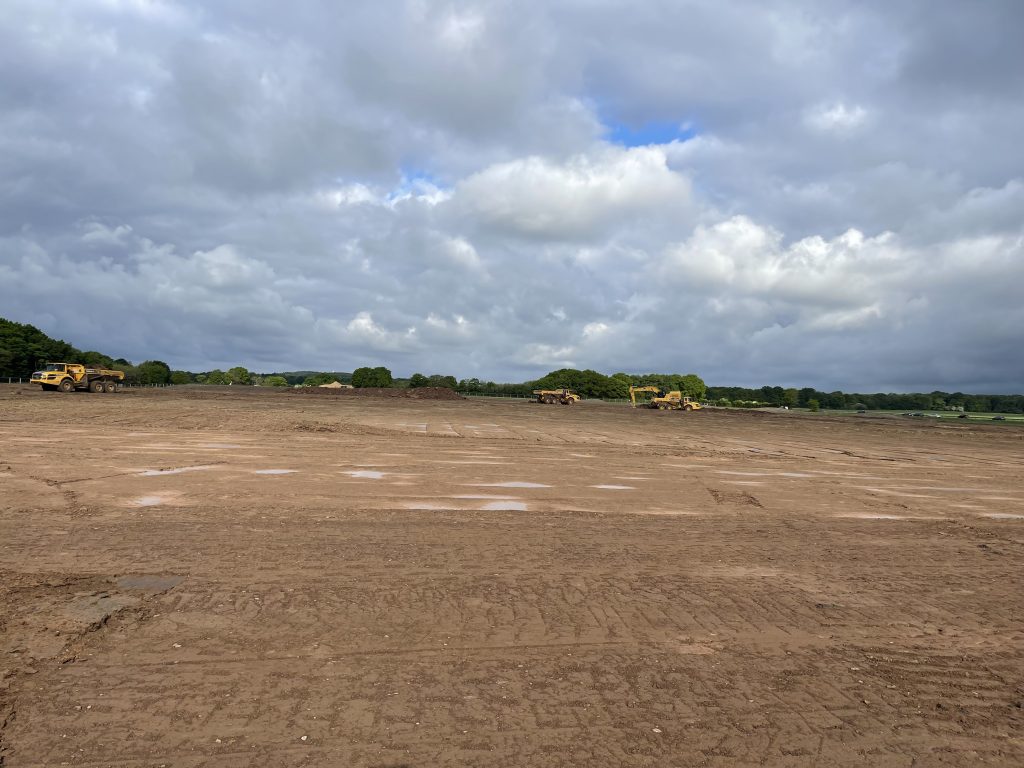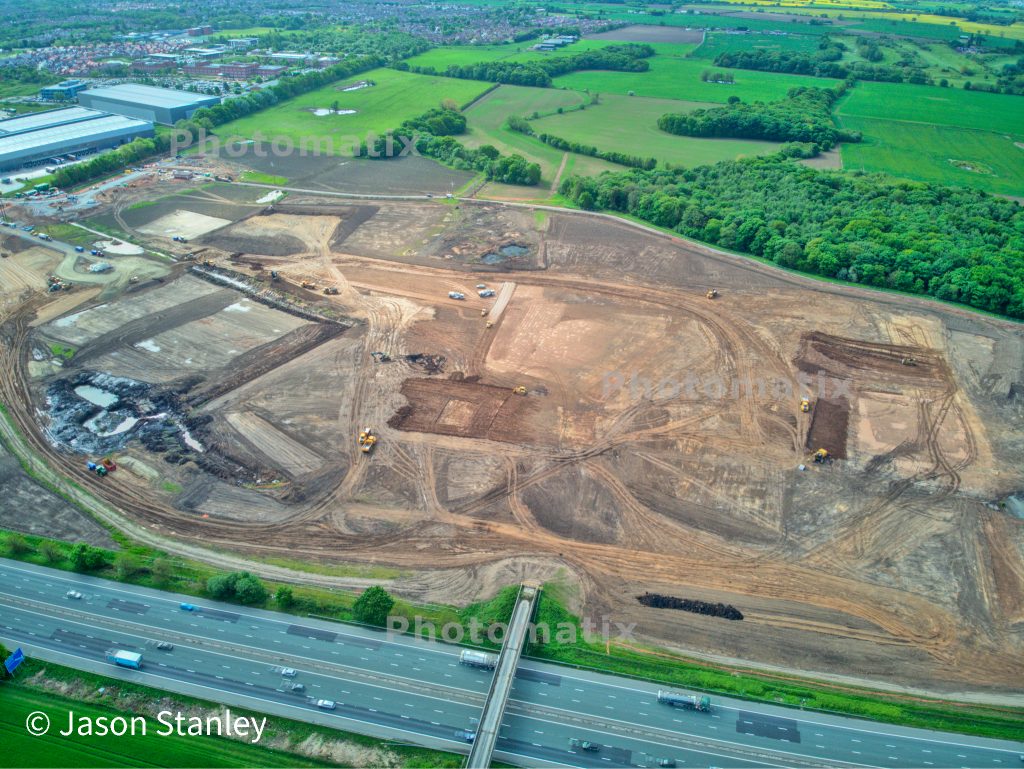 June 2022
June saw a big improvement on the Warrington site. The team pressed on with the work despite the ever changing weather conditions and managed to get ahead of schedule. This was through the determination of the team and its management, pushing through to complete the work for our valued client.
Paying another visit to the site, we found "big change and great progress with Malcolm, Nigel and the site team. Building platform is underway, working to a strict specification. The piling contractors start on site". Our colleagues at Braidwood began helping us on site, which we are grateful as always for. We enjoy working with other companies in our field of work to get jobs done.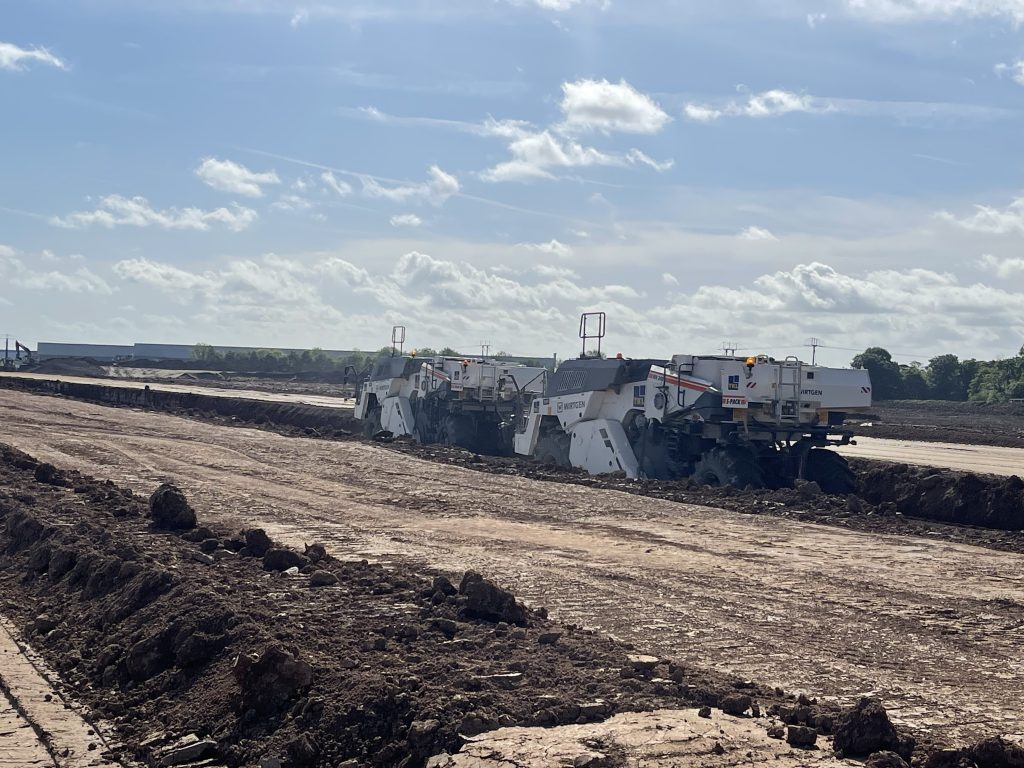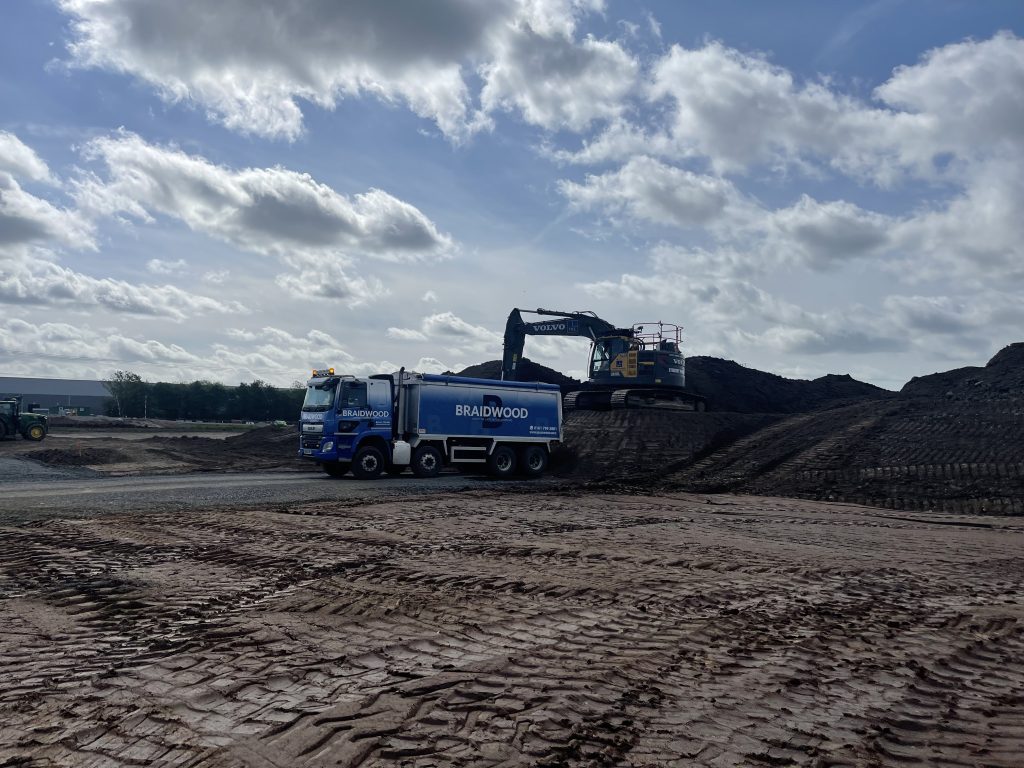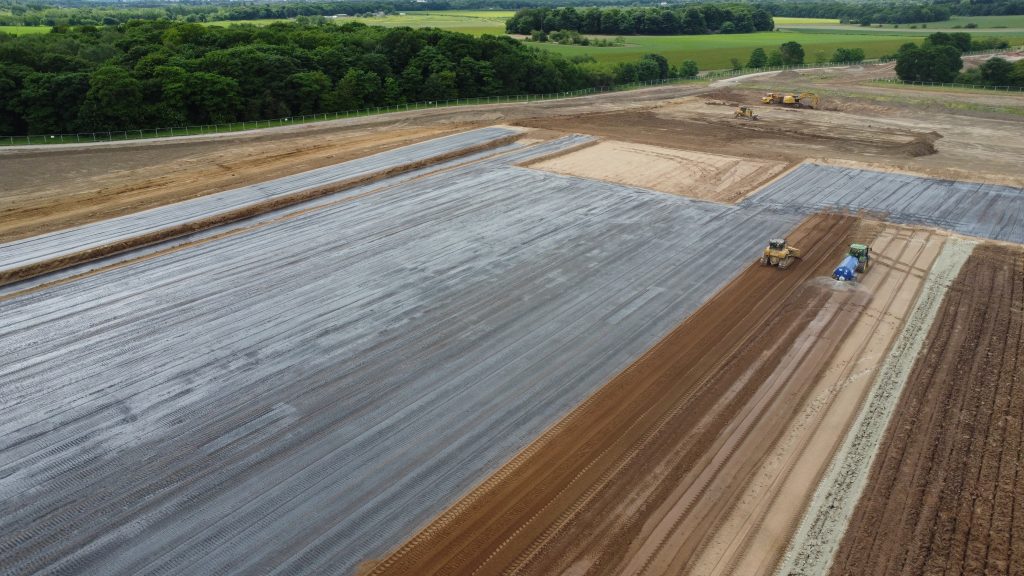 On our second visit of the month, we took the drone down with us to the site in order to capture some aerial photos of the progress of the site.
July 2022
The start of July continued to to see further progress in Warrington. The weather took a turn, which to some may have hindered progress, but not for us, as Dean told us "despite the mixed weather, piling contractors started and our site team are keeping ahead of programme"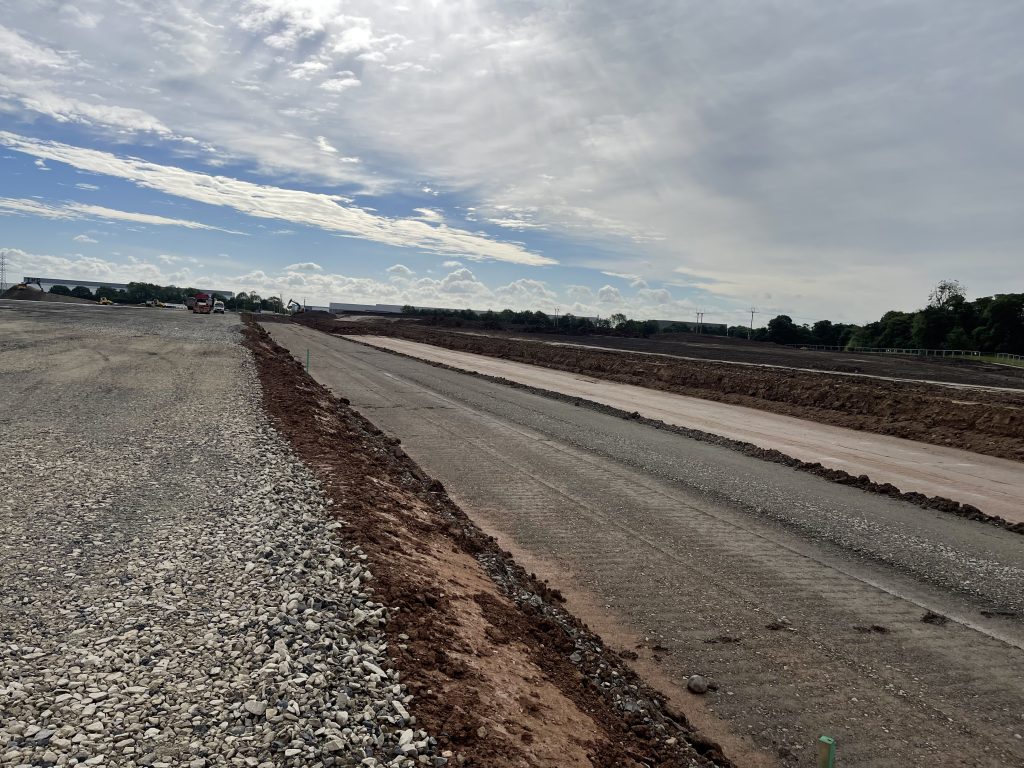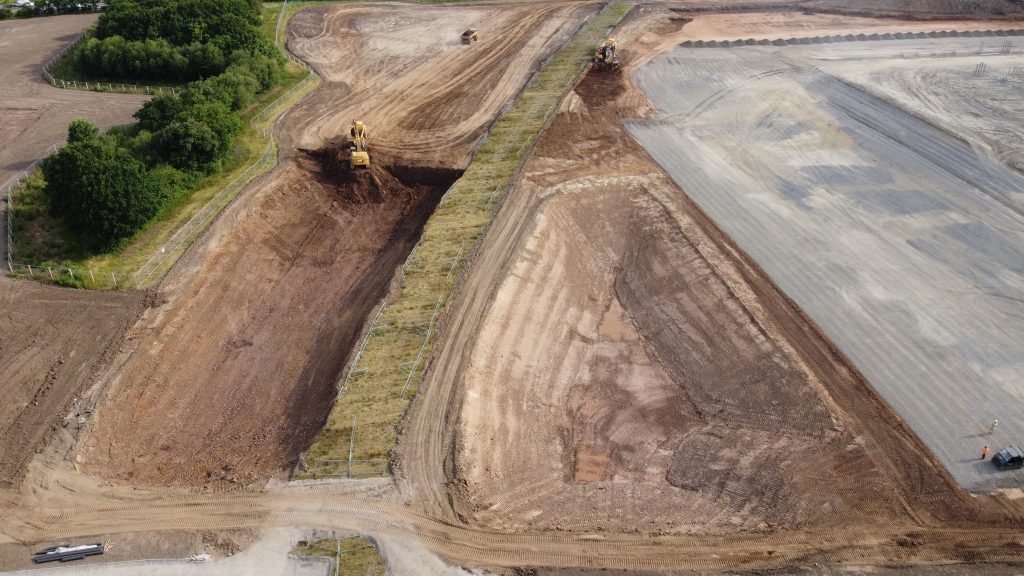 In addition to this, in a more recent visit to Warrington, Dean told us that "Earthworks and soil modification are moving at great pace and the stabilised platform is keeping ahead of the piling contractors" and the site is seeing "great progress and is well ahead of programme".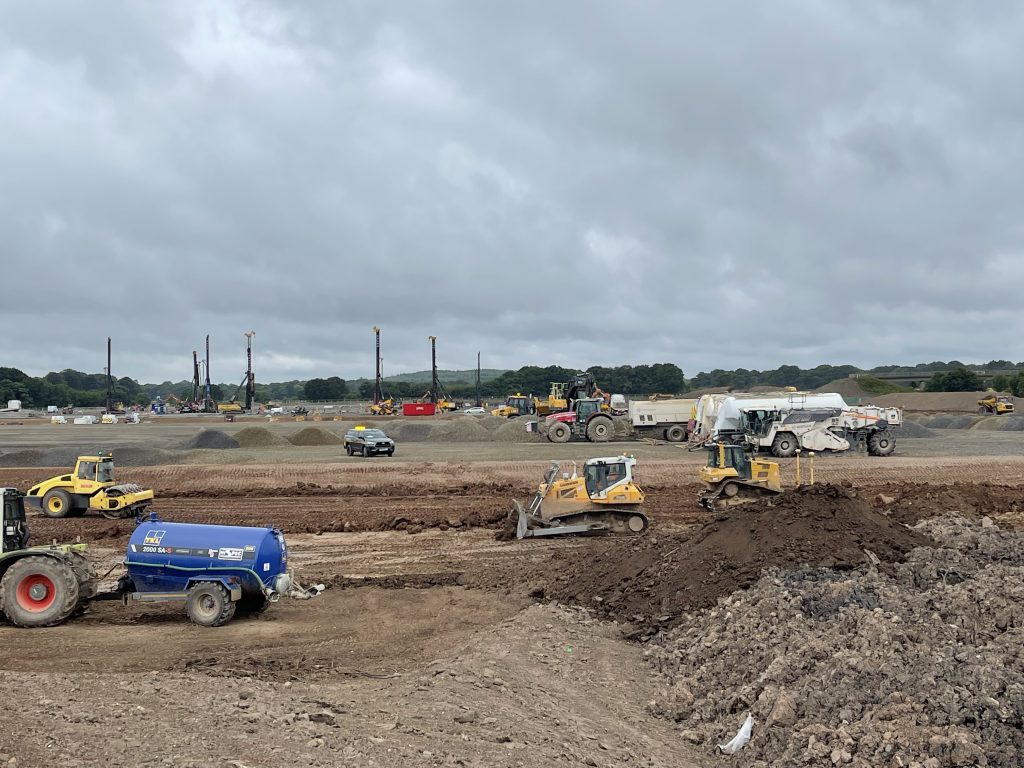 That's all we have for you for now, but please continue to visit this site for further updates. Alternatively, follow our LinkedIn page for regular updates from us.